Article from actcds.com.au/act_news/sharing-places/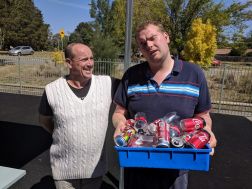 Image
The ACT Container Deposit Scheme has been running for less than a year but is growing, in both participation and community awareness, thanks in no small part to organisations such as Sharing Places.
Sharing Places is a not-for-profit NGO providing day programs for adults with a disability. It was established in 1989 by a group of parents of young people who had some form of disability; they had complex needs and required full-time support in all aspects of their lives.
Its mission is to provide opportunities and support to people with disability. This will enable them to achieve their own goals and aspirations, improve their wellbeing and reach their full potential.
The Belconnen support teams at Sharing Places jumped on board the ACT CDS in July 2018 and started collecting cans and bottles from staff, participants, parents and friends.
By Christmas, the participants and their support workers had collected enough money to reduce the price of their Christmas Party lunch " from $15 per person to $5!"
What a great way to celebrate both Christmas and reducing the environmental impact of containers going to landfill!
Mike Bertram, a Program Coordinator at Sharing Places, explains that on a regular basis participants sort the containers and then take them out to the bulk depot in Mitchell.
"Not only does this program provide some extra cash for special occasions, it is also providing an opportunity for our participants to learn and practice some skills around sorting, manual handling and money handling."
The support teams and participants "started small, without a significant push to collect on a grand scale" but, encouraged by the joint team effort of everyone involved, they are hoping to fund a number of special activities for their participants this year.
The Belconnen team's success has inspired the South Canberra support teams who will also begin collections this year.
ACT CDS is very happy to have them on board and watch how such an excellent initiative encouraging community involvement can 'start small' and continue to grow into something grand.